Our Story
100 years ago, the Woman's Club of Key West came into being through a unique evolutionary process. A series of organized efforts by small groups contributed directly to its becoming a federated organization…
Special events deserve historic surroundings. Available for weddings, holiday parties & corporate events…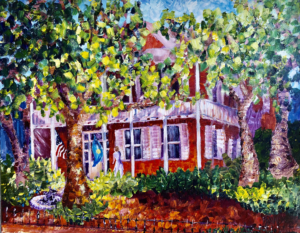 Saving Eleanor
The historic Hellings House Museum, home of The Key West Woman's Club has begun a capital campaign for future generations. Now 130 years old, the home built by Martin and Eleanor Curry Hellings, needs our help!  Though she has been lovingly cared for, a crumbling staircase, old roof and a deteriorating iron balcony must be repaired for safety and aesthetic reasons.
All donations greatly appreciated
Painting by Fran Decker
Est. 1915
Motto: Qui Non Proficit Deficit
Mission Statement:
We will build an institution the likes of which has never been seen; one that will be a benefit and a blessing to those associated with it.